#1.
This is a momentous week in my family's history. My little sister turns 19 today and my big brother will turn 28 on Wednesday! Kelsey is off in the South playing big-time Air Force girl and Erik is on the other side of the state playing big-time husband and father with his cute little family. I'm beginning not to like the fact that we are so far apart while I don't think any of us really want to be. That doesn't make sense to me. Why can't we all just live on one big commune?;) Anyway, a big Happy Birthday to Erik and Kelsey. I love you and miss you both so much!

Amy & Kelsey in Lake Tahoe last August...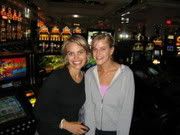 Erik, Audrey, Amy & Parker last Christmas...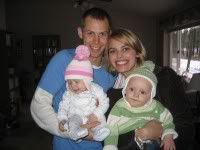 #2. Parker grew out of his jammies this weekend. No, he didn't grow too tall or too fat, but his feet grew too wide for his footies in his jammies! The footies are literally about an inch too long but they are cutting off the circulation in his feet width-wise. It really is ridiculous. They were perfectly good jammies but his feet just couldn't squeeze in anymore. I bought Parker some new jammies without feet this time so he'll probably be able to wear them until he's five or so:)

#3. Parker learned some awesome new dance moves this weekend. I'm convinced that he got his great moves from me. He was grooving to Jack Johnson this morning and practicing his skills for the ladies. He's such a cool kid!

#4. I love Murphy's Oil Soap. I use it to clean just about everything now and it makes everything smell and look so good. It reminds me of home because my Mom uses Murphy's to clean her floor, as well. Mom's are so great at making a house feel "homey". I hope that I can do the same. I cleaned all of the floors last night and I went to bed feeling so accomplished. I knew that Parker would toss his banana on the floor this morning but at least I had 10 hours of perfection!

#5. We bought Joel some new shirts and ties this weekend for his upcoming big boy job and he looks super sharp.

#6. Yard work is so overwhelming. I love the thought of a really nice yard and a little garden to call my own, but getting started is so hard. When we go on walks now, I look longingly at all of the pretty gardens and wonder who they paid to get it to look that way!